Diamonds are timeless, yet they also change all the time. New trends and designs attract jewelry fans and fashionistas each year. Here are the nine most prominent Diamond Jewelry Trends for 2023, whether you're searching for a present for a particular someone, a treat for yourself, or just some inspiration.
Using colored diamonds is one of the most exciting Diamond Jewelry Trends.
     

Colored diamonds are becoming more popular and affordable to add sparkle and indeed personality to your jewelry collection.

     

Some of the most sought-after colors are pink, yellow, blue, and green, which can range from subtle to vivid hues depending on the quality and origin of the diamonds.

     

These can be paired with white diamonds or other gemstones to create stunning contrasts and combinations.

     

Colored diamonds can also be set in different metals, such as rose gold, platinum, or silver, to enhance their color and style.
Cluster rings are a different style of diamond jewelry that is becoming increasingly popular. These rings have numerous tiny diamonds placed in a pattern or form for a sparkling appearance. Different themes and motifs, such as flowers, stars, hearts, or geometric designs, are possible for cluster rings. If you love glitz and shine, cluster rings are perfect for you. These rings have a group of smaller diamonds or gemstones that form a larger shape or design. They can also express your personality and sense of style.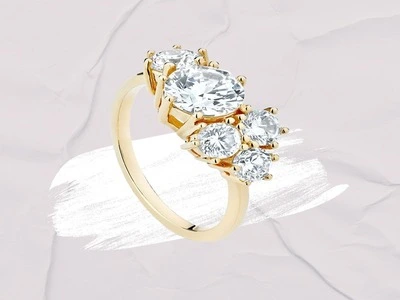 Cluster rings are not only beautiful but also affordable. Because they use smaller stones, they cost less than a single large stone of the same weight. Therefore, cluster rings are an excellent option for anyone who wants to sparkle on a budget.
Asymmetrical earrings are a Diamond Jewelry Trends that might be something you try if you want to liven up your ear game. Asymmetrical earrings are a trendy and eye-catching Jewelry that spice up any outfit. These earrings have various patterns or lengths on each ear, which creates a contrast and balance that is fashionable and unique.
For example, you can create asymmetrical earrings with diamonds and other jewels, which are delicate, beautiful, and edgy. Additionally, you can mix and match different shapes, colors, and materials to create your style. Asymmetrical earrings are ideal for those who enjoy playing with their appearance and accessories.
Chain necklaces are one of the most traditional and adaptable fashions in Diamond Jewelry Trends.
     

Chain necklaces are a classic accessory that never goes out of style. They can also indeed be worn alone or layered with other pieces for a chic look.

     

Diamond jewelry is always a timeless and elegant choice. It adds sparkle and sophistication to any outfit and occasion.
·        In 2023, the trends for chain necklaces and diamond jewelry will combine to create stunning designs that are both modern and glamorous.
Stackable bracelets are another fun and stylish Diamond Jewelry Trends. These bracelets have numerous thin bands with diamonds or other gemstones, giving them a layered, fashionable appearance. 
Different colors and materials, such as gold, silver, rose gold, or platinum, can be combined with stackable bracelets. Stackable bracelets are perfect for people who enjoy accessorizing and playing with their appearance.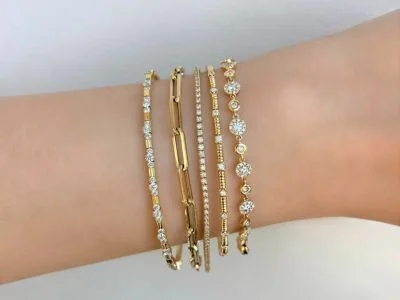 Halo settings are one of the most traditional and charming styles in Diamond Jewelry Trends. Halo settings are a way of making a comprehensive diamond look even bigger and more sparkly. 
They do this by putting smaller diamonds around the big diamond, like a ring of light. You can find halo settings on jewelry like rings, earrings, necklaces, and bracelets. Halo settings suit people who like shiny things and want to show love and care for someone.
Pear-shaped diamonds are one of the most distinctive and attractive jewelry design trends. These diamonds resemble a pear or a teardrop and have rounded and pointy ends. When worn in different places, pear-shaped diamonds can slim the fingers or face. 
They can also create eye-catching contrasts and combinations with other diamond or gemstone shapes. Pear-shaped diamonds are perfect for people who like to wear jewelry differently and adventurously.
8. Art Deco-Inspired Jewelry
Art Deco-inspired jewelry is a classic and fashionable Diamond Jewelry Trend. Some people like to wear jewelry that looks like the ones indeed from a long time ago. This jewelry has straight lines, the same shapes on both sides, simple forms, and different colors. 
They remind us of when people liked to dance and party a lot. If you want to look like someone from an old movie, this jewelry can make you look cool and fancy. This jewelry is fabulous for people who love to learn about the past and different places.
Diamond watches are one of the most valuable and beautiful trends in diamond jewelry and have shiny stones on them. The shiny stones are called diamonds. Diamonds can be on the face of the watch's edge, the watch, the band of the watch, or everywhere on the watch. Diamond watches make your wrist look nice and fancy.
Diamond watches have different shapes and colors that you can choose from. You can wear diamond watches for any occasion, whether going to school or a party.
Diamond watches suit people who like pretty things and also want to know what time it is. Moreover, these can make you stand out and show your personality. Therefore, consider getting a diamond watch if you want a stylish and practical accessory.
Here are nine new ways to wear diamonds in 2023. You can make your old diamonds look new or buy something new for yourself. Diamond Jewelry Trends are beautiful and expensive. They also last a long time and mean a lot. You can wear diamonds to show how much you love yourself and others and to remember the good times in your life. So go ahead and get some diamonds in 2023 – you are worth it! 
Diamonds are a kind of jewelry that anyone can wear and like. You can choose different shapes and colors of diamonds and different ways to wear them. Whether you prefer classic or modern styles, subtle or flashy designs, or simple or elaborate pieces, there is a diamond jewelry trend for you in 2023.