Jewelry needs regular maintenance to maintain its beauty, durability, and lifespan. Understanding the benefits of Routine Maintenance of Jewelry is essential in Lahore, Pakistan, where jewelry is a key part of culture and history. Cleaning and checking your jewelry on a regular basis will help you see any possible problems, including loose stones, worn-out clasps, or other indications of wear and tear. You may prevent future expensive repairs or replacements by being proactive now. Additionally, regular upkeep aids in preserving the jewelry's original brilliance and luster, which over time may improve its look and raise its worth. Additionally, it aids in preventing the accumulation of grime, oils, and other chemicals that might dull or stain the jewelry. In general, regular jewelry care is a minor investment that may provide big benefits in terms of preserving its aesthetic, value, and life.
Here are Some of The Main Benefits To Do Routine Maintenance of Jewelry:
Regular maintenance and cleaning help remove dirt and grime that may amass over time. By doing this, you may help avoid corrosion and other sorts of wear and tear that might shorten the useful life of your jewellery. The regular cleaning of gold, diamond jewelry will increase the lifespan and it will also add effulgence in your jewelry.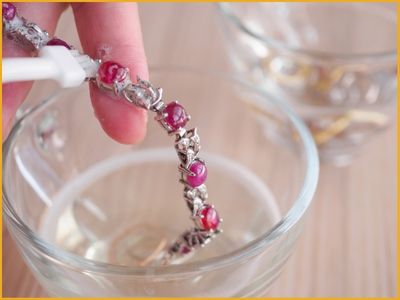 To keep your jewellery looking good and shining, you should clean it often. It helps to remove surface tarnish and restore lost sheen, giving it a brand-new appearance. You are protecting your jewelry's attractiveness and ensuring that it keeps its shine and luster for a longer period of time by doing this. Your favorite necklace, ring, or bracelet will look gorgeous and glittering for years to come if you take good care of your jewellery. So, be sure to clean your jewellery often if you want to maintain its gorgeous appearance.
Because it shows that you take great care of your possessions, Routine Maintenance of Jewelry may increase the value of your jewellery. This is especially true for antique and vintage jewellery, which, if properly cared for, may be worth far more. There are some important polishing materials available in the market, you should be using this material for polishing jewelry because it's the most expensive thing you have.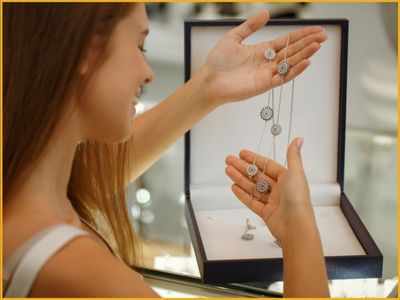 It is essential to do Routine Maintenance of Jewelry to keep it safe and secure. You may find any possible issues like loose stones or faulty clasps by routinely cleaning and inspecting your jewellery. By identifying problems early on, you may get them corrected right away before they become worse and harm your priceless jewellery. For example, having a loose stone tightened right away might save it from slipping out and becoming misplaced. Similar to how you may prevent your necklace or bracelet from falling off by strengthening a weak clasp. In other words, maintaining your jewellery on a regular basis enables you to see possible issues and fix them, keeping it safe and secure.
Gives Tranquility of Mind
Routine Maintenance of Jewelry is an investment that may help you feel calm and at peace. You may feel more secure and at ease knowing that your treasured things are being carefully cared for. Your jewellery will remain in excellent shape and be free of any possible issues, such as loose stones or weak clasps, with regular cleaning and maintenance. Knowing that your priceless jewellery is safeguarded and conserved for enjoyment by future generations might give you peace of mind. In conclusion, spending the time and energy necessary for periodic jewellery repair may provide you peace of mind and confidence in the upkeep and preservation of your prized possessions.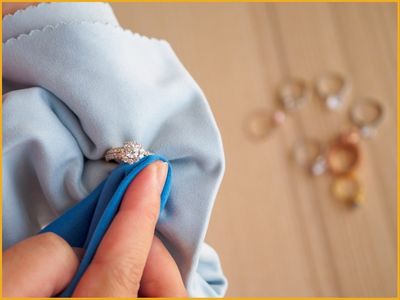 There are several jewellery stores and repair shops that provide ongoing maintenance services in Lahore, Pakistan. These services could include appraisals and certifications in addition to cleaning, polishing, and repairing. You can make sure that your jewellery remains in excellent condition for many years to come by having regular repairs made to it.
It's important to realize that only some jewellery require the same level of routine maintenance. For instance, beautiful jewellery made of expensive materials like gold, Diamond and silver requires more upkeep than costume jewellery made of less expensive materials. Fine jewellery is often worn more frequently, which exposes it to more environmental factors, and needs more frequent cleanings to keep it looking its best.
It's important to protect your jewellery properly in addition to cleaning and maintaining the gold jewelry regularly. Jewelry should be maintained out of direct sunlight and dampness in a cool, dry place. To protect jewellery from scuffs and other harm, it should ideally be kept in a soft cloth bag or cushioned jewellery box.
Insurance is another essential component of jewellery maintenance. Jewelry may be priceless, thus it must be protected against theft, loss, or harm. You may have peace of mind knowing that your jewellery is protected in the event of an unplanned disaster by ensuring it.
There are various options for jewellery insurance in Lahore, Pakistan, including individual policies and insurance via your home insurance or travel insurance. It's important to weigh your options and get the right insurance for your jewellery.
In conclusion, Routine Maintenance of Jewelry, proper storage, and insurance are all essential parts of taking good care of your jewellery. You may ensure that your jewellery maintains excellent condition for many years by adhering to these measures. Whether you own fine jewellery or costume jewellery, taking good care of your jewellery is an investment in your valued possessions and a testament to the value you place on it.