Kids Jewelry is one of the things to be loved by children. We tend to dress up our kids in shiny clothing & sparkling jewelry. There are numerous examples of children being dressed by jewelry in ancient mythology and a variety of archeological excavations. Since ancient times children's jewelry has been used to beautify them.
This Article Entails Different Kids Jewelry Items That are Commonly Used:
Typically, an infant's tiny anklets make a sound that tinkles when they move their legs, stroll or crawl. Anklets for babies are cute and make the Kids Jewelry set look cute and cuddling. Since, kids are already cute & innocent, hence the Anklets they wear must increase their cuteness. Moreover, anklets are themselves an added jewelry where we must see that the edges of anklets are not sharp.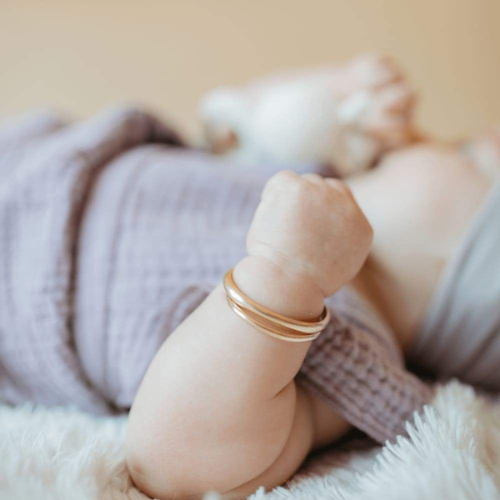 Another common type of jewelry for babies is tiny Bangles which encircle the tiny hands of young angels. Commonly, in Asian countries the ear piercing of children is celebrated in an extravagant manner. In many communities, this ritual is held for both boys and girls alike in the presence of families & friends.
Right Age For Necklace & Bracelets
As kids grow and become more active, they are often seen wearing the typical chains, bracelets or rings. Girls are decorated by head-to-toe in Kids Jewelry made of gold diamonds and precious stone jewelry. Earrings & headbands that are cartoon like with matching necklaces and tiny bangles that fit the hands of small girls. There are plenty of jewelry items that can be utilized to make out pretty dolls look more like dolls.
Why Shall The Kids Jewelry Be Used?
We have to go through the approach of forming an attitude of wearing jewelry throughout the day. Because it's a popular belief that a home with girls who are well-dressed and wearing Kids Jewelry is lucky. Because it's a popular belief that a home with girls who are well-dressed and wearing diamond and gold jewelry is lucky. Kids need to look different and their personality shall look complete. Hence, the jewelry for them is important. Also, Kids who wear jewelry are likely to have more confidence & sense of belongingness.
Kids Jewelry is popular in almost every culture. But the style & design can differ. Mostly, kids from the age 3 and above wear jewelry items. Parents prefer lightweight and sleek designed jewelry for kids. Notably, Pure Gold & Diamond are not preferred as kids are hyperactive and may lose them while playing.
Here are some of the western Kids Jewelry items that can make your kids look fabulous at a young age.
A cute & attractive earring that has the initial letter of the kids name in Zircon gem with white gold will look amazing. Kids themselves will feel valued and will like those if they are top like. Surely, initial letters of names are always an identity driven way of wearing jewelry. Thus, use the initial letter of kid's names in Kids Jewelry for pride & dignity of kids.
Adorable Kids Jewelry has adorable earring designs that can be carved into style. For instance a living object can be carved with pearls such as a turtle in silver or white gold. Other earrings can be the following:
• Dual Side Prong 8mm  • Opal Stars • Unicorn Baby tops
• Frosted Sprinkle Donut tops   • Zirconia Prong set 4mm
Birthstone Heart Baby Earrings
A stunning silver made toddler piece of earrings set with screw back and has a heart shaped zircon in it. It will look marvelous in the Sterling Silver and small size for a perfect fit in small ears. Mystically, it amplifies the kid's love for jewelry & ignites happiness in kids. Birthstone heart earrings for babies will look cute on baby girls. 
Jewelry Sets That are Prancing With Style
Apart from the traditional and trendy jewelry designs for kids & teens, the jewelry sets can be customized too. Therefore, the following are a few designs for Kids Jewelry Sets. These designs will not only be unique to you but to others as well. Moreover, you will be free in choosing the color, style & design and decorate your babies as you want.
There are a variety of accessories that draw attention towards teenage girls. So, the lightweight necklaces, matching earrings with a nose stud, and the Indian nation's obsession Jhumka. Small drops of Jhumka hang from several rows to various shapes like square, conical and umbrella-shaped. The Jhumka comes in many different shapes that are loved by all, not just teenagers and mature women.
Both boys & girls can wear necklaces with a little difference in style & design. Most popular necklace among young girls is the Engraved Heart Tag necklace. An ever-living design that has engraved letters or a symbol that shows the young love and the couples mostly wear it.
Likewise, the Round Tag ID necklace with engraving is also popular. But the difference is the shape and the sturdiness of the chain. Preferably, round tags go with a solid ring type chain. Gradually, the round tag necklace will become the most desired Kids Jewelry. It is the best way to cover a baby's neck.
3mm Pearl Cultured Necklace
Pearls are a teenage girl's best choice. Small white pearls entangled in a sleek gold chain looks trendy. Undoubtedly, pearls in chains bring unique style in Kids Jewelry that goes with young girls in every dress.
Pearls look great in both boys & girls. Teenage boys & girls can wear pearl necklaces as a set to express their love. Verily, pearls are a symbol of classic love & can be amalgamated with light weight necklaces as pendants. Also, one might use them in a studded way to increase the value of the necklace too.
Satellite Polished 16 inch Necklace
Simplicity in teenage girls & boys is the best way to live the casual lifestyle. This necklace is more of a chain design with knotted pearls or other gems. They can be polished with chains. Casually, satellite necklace is best for your teenage girls & boys during their lifestyle. It looks best in high school days with funky jeans. One can simply wear it to pool parties to show off their lively nature.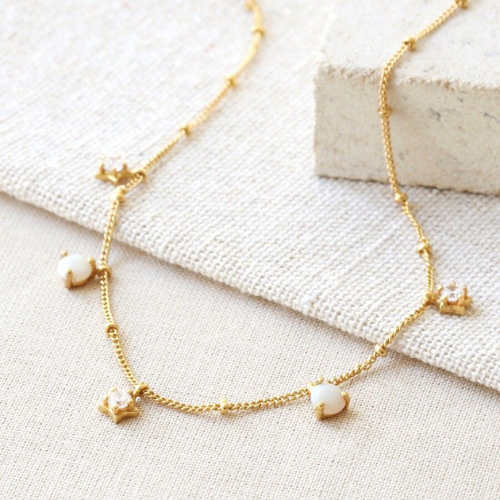 Unicorn For Toddlers & Kids
A dancing unicorn pendant in gold locket and the same in earrings or tops as a set can give a cartoon theme. Unicorns are loved by almost every girl at a young age.
Another slightly elegant design is a decorated mouse with purple beads or stones. Prominently, it will appear in tops and lockets as well. Petite animal designs look best with silver lining or artificial metal.
Giving a horoscopic touch to kids for better personality grooming is the use of birthstone in Kids Jewelry. Stones that match the zodiac sign of the kid are embedded in the pendant of the locket and the tops. Hence, many people believe in the effect of these stones on life and wish their kids success.
Kids require care & proper dressing for their better cognitive development. Wearing jewelry will make them feel belonged and valued. Also, it shall be a part of basic dressing to show the worth of a decent lifestyle to kids. Furthermore, Kids Jewelry has limitless ways of expressing love and kindness too. The tenderness, innocence & purity shall be portrayed over the top by any jewelry design.