Diamond jewelry has been the mesmerizing element in jewelry for centuries. Diamonds are considered to be the most precious and hardest stones. Diamond jewelry is strong, beautiful & a symbol of elegance, style & luxury.
Diamond Jewelry Design entails the charismatic appearance of ladies and brings out the valuable you. From the studded diamonds in Pure Gold to the Jewels embedded in Silver, Diamonds are the life of jewelry. This guide shall bring you useful information related to some of the trending Diamond Jewelry Design.
Considered as the most uniquely designed animal shaped earrings by most of the jewelers. Elegantly crafted Diamond peacock earrings have a sapphire studded in the center and diamonds surround it. These jewelry masterpieces are truly the work of art and thrive with a lustrous charming appeal. Peacock Earrings require molding by experts who can bring rose gold finishing to the highest level of perfection.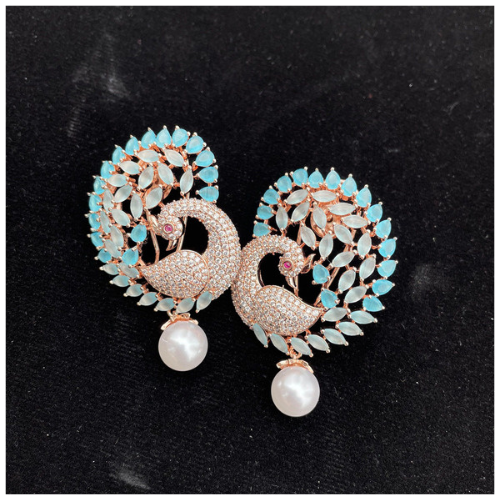 South Sea Pearl Diamond Flower Stud
A uniquely colorful & prominent pearl & diamond earring set that has both style & culture. The big pearl depicts the typical classical thought. Whereas, the studded diamonds in rose gold above the pearl add shine & real glitter to the design. Pearl Earrings in Diamond Jewelry Design are a standout with lavish appeal. From young to the old elegant ladies, anyone can wear them.
Bird Stud Earrings in Diamond Jewelry Design
Truly, a unique piece of diamond jewelry that makes you feel connected to nature. Shaped in a sparrow with embossed microscopic diamonds and a feroza gem studded in the center. Eyes of the sparrow are black diamond or 'black aqeeq' as per customer's demand. Rest of the branching is done in pure gold.
Flower & Leaf Pattern in Diamond Necklace
Giving an earthly touch or a greener pattern is always considered positive. Divinely, Diamond Jewelry Design in necklaces have flower patterns as a modern twist. Diamond Necklace with the leaf and flower pattern is mostly in green & white color tone. Thus, it is a best fit for special occasions with a matching green dress.
A finely crafted jewelry item with delicacy on the top. The leaf designs & hell in the pendant made with rose gold increases its appeal. Absolutely an ideal wear for modern & casual attire, Diamond pendant Necklace is charming.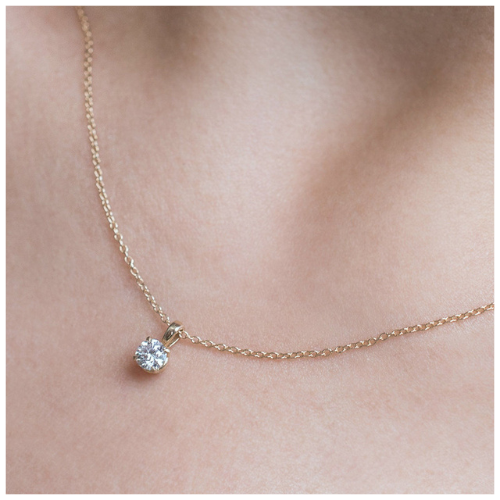 A mesmeric diamond necklace with studded diamonds in its chain & the Ruby stone in its pendant. Ruby is kept bold which is supported by a diamond circle & paired with choker for a traditional look.
Diamond Jewelry Design Bangles have a vast variety. A trendy and timeless one is the marquish shaped diamond in 2 mine round shaped diamond. The border is fixed with yellow gold lining. It is an elegant jewelry wear.
Yellow Gold Diamond Bangles
Alternatively, small diamonds are fixed in this yellow gold sleek bangle set. Usually, it comes in pairs but one can increase the numbers or just wear a single with a casual look.
Designed on pure yellow gold and chained with studded diamonds & Ruby joints, it looks fabulous. Diamond & Ruby Bangles are one of a kind pieces in Diamond Jewelry Design with being a symbol of harmonic love.
Diamond Ruby Emerald Changeable Bangles
Flaunting a whole new look with a colorful set of Diamond, Ruby & Emerald bangles. Elegance was never better than this design that enhanced the diamond's own beauty. It has customization options with changeable rubies & emeralds too.
Diamond Floral Yellow Gold Ring
In Diamond Rings, the floral design is an ever-lasting design that is liked by everyone. Flower shaped or leaf shaped diamonds. Yellow gold base in the ring gives this two colored shiny ring a unique touch.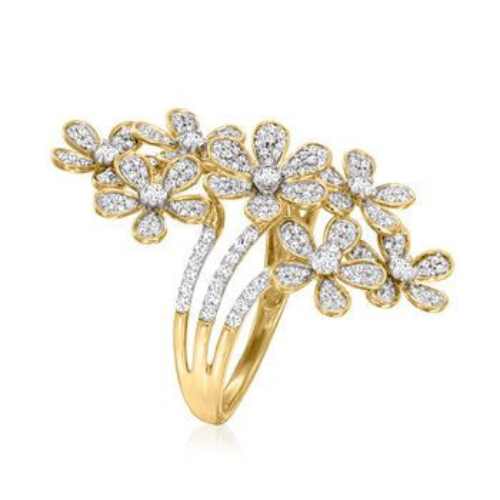 Exclusively, for alluring the feminine touch and appeal, Solitaire diamond ring in white gold will bring you real joy. Crafted with delicacy & precision, it has 11 diamonds in which 10 are small and studded on each side. Prominently, the center diamond is big to enhance the beauty of the ring to a next level. The Diamond Jewelry Design having rings crafted with creativity and feel is something extraordinary & buoyant.
It is a 22K gold ring with a diamond studded in the middle. The sparkle of this diamond due to its edgy cutting has an excellent effect on a woman's finger. Traditionally, it is considered as one of the most popular diamond ring designs in the world.
Genuinely, the real pearl is embedded with studded diamonds on both sides with a twisted white gold ring. Versatility is what ladies dream of while selecting a Diamond Jewelry Design. This ring is believed to bring luck & preserve the age of women.
Diamond Jewelry needs to be designed with perfection and has to have a meaning of each design. Finally, it is the customer's choice and preference in selecting the best design. But one can take guidance by our articles and information for a better understanding of the ongoing trends.